TVS Ronin Review, Design, Price, Motor Performance, Features
The Ronin is an unusual amalgamation of motorcycle flavors and it launches a whole new platform.
It's always interesting to see the results when a company tries something completely different from what it normally excels at. TVS does a great job of making sportbikes, scooters, commuters and mopeds, but this is their first attempt at a casual, recreational, modern, retro motorcycle. Called the Ronin – the Japanese word for a masterless samurai, and that probably makes sense – this bike doesn't seem to fit into any known category of bike.
TVS Ronin: design
The Ronin draws its heritage from the Zeppelin cruiser concept that was shown at the Auto Expo four years ago, but this bike has clearly taken quite a different direction when it comes to design philosophy. You will see different kinds of motorcycles from different angles. There are hints of neo-retro machines, cafe racers, flat trackers and scramblers, but the strongest design theme seems to be that of a cruiser.
The most obvious cruiser hint is seen in the slanted angle of the USD front fork, but TVS has added a few more details. The chain drive, for example, gets an oversized cover designed to resemble the belt drive system of a large cruiser. And then there's the high, swept handlebars, and an alloy wheel design that looks inspired by what you'll see on some big Harleys.
The overall result is a bike that has good front-end presence, thanks to the USD fork and big 14-litre fuel tank, although the rear end is noticeably more polarizing. The fender looks a little awkward and the grab handle also looks pretty utilitarian, but it's removable if you don't mind living without it.
What I like is the sleek, almost Robocop-style LED taillight that fits neatly into the metal rail that forms the rear subframe. The sleek mirrors and arrow-shaped LED indicators also give the bike a nice high-end feel for this price. In fact, the overall quality and finish is probably the best you'll find for this kind of money.
TVS Ronin: engine and performance
The Ronin gets an all-new 225cc engine. This displacement figure is very similar to what was shown on the Zeppelin, but this bike has none of the hybrid technologies that were shown on the 2018 concept. You get a completely boxy design with bore and identical stroke of 66 mm. The engine has a four-valve head, oil cooler and drives the rear wheel through a 5-speed gearbox shared with the RTR 200.
TVS makes it clear that this bike is not about high speeds or racing, and has been specifically designed to deliver easily accessible performance. The result is just over 20 horsepower and just under 20 Nm of torque. These are by no means exceptional numbers, but the point you should really notice here is that peak torque comes in at just 3,750 rpm. To give you some perspective, the new Royal Enfield Classic 350 produces its peak torque at 4,000 rpm, but of course the larger Enfield has 35% more torque to offer.
On paper, the Ronin might appear to have almost Royal Enfield-like power, but in reality, it looks a lot like a TV. The engine is very smooth and the bike produces a nice fruity exhaust note.
The Ronin also has a quiet start system, something we've only seen on small-capacity scooters and commuters so far. It's a nice feature to have because it just builds on what is already a very polished experience.
While this is clearly not a slow-revving engine, the driving experience still builds on that solid low-end performance. As you'd expect, the low-end pull available is really nice, and TVS used rather short gearing, which resulted in a superbly flexible experience. Not only can the engine take very low speeds in the high gears, but it pulls well from just 3,000 rpm. You can be in third gear as low as 15mph and have the bike respond well when you open the throttle.
In a crowded and chaotic urban environment, this will prove superb, but it will come at the expense of highway performance. For the Ronin, 85 km/h is a relaxed cruising speed and it holds around 100 without any signs of stress. But anything beyond that comes very slow, and you'll probably have to crouch if you want to see the claimed 120mph top speed on the speedo. The engine revs up to 9,000 rpm, but going above 8,000 rpm seems pretty futile.
If you're looking for sustained high speeds, you'll probably want to look elsewhere.
TVS Ronin: comfort, chassis and maneuverability
With that kind of performance, the Ronin will be a really fun bike to ride around town and the all-new chassis has been carefully designed to amplify a planted, yet light and easy-to-ride character.
Take the suspension fork's lazy 27-degree lean angle, for example. It looks a lot like a cruiser and brings a lot of stability, but at the expense of agility. To get around this, TVS designed a bottom fork offset, which is what you normally see on dirt bikes. However, where offsetting the fork on a dirt bike moves the wheel forward to increase trail, TVS did the reverse here and brought the wheel back. This helps reintroduce some agility and make the bike light and easy to ride. Chassis tuning really can be an incredibly detailed art.
The standout factor of the Ronin's new split double-cradle chassis is definitely its USD fork setup. It's the same 41mm Showa fork as the RR 310, but with completely revised springs and damping rates to match the comfortable character of the Ronin. There is a monoshock in the rear and the overall suspension travel figures are similar to the RR 310.
Now we were only able to cycle for a few hours in South Goa on a day when IMD announced an orange alert. Suffice to say, we weren't able to push the bike to its limits, but the impression so far is very positive. At 160 pounds, it's not a heavy bike, but TVS has struck the sweet spot between stability and lightweight steering agility. You need very little effort to change direction, and the new TVS Rambler tires performed quite well, despite their blocky all-terrain design.
With these type of tires and a ground clearance of 181 mm, the Ronin seems to be designed for off-road riding. However, you'll soon find that standing up is uncomfortable, the rear ABS can't be turned off, and the suspension can bottom out quite easily if you start messing around.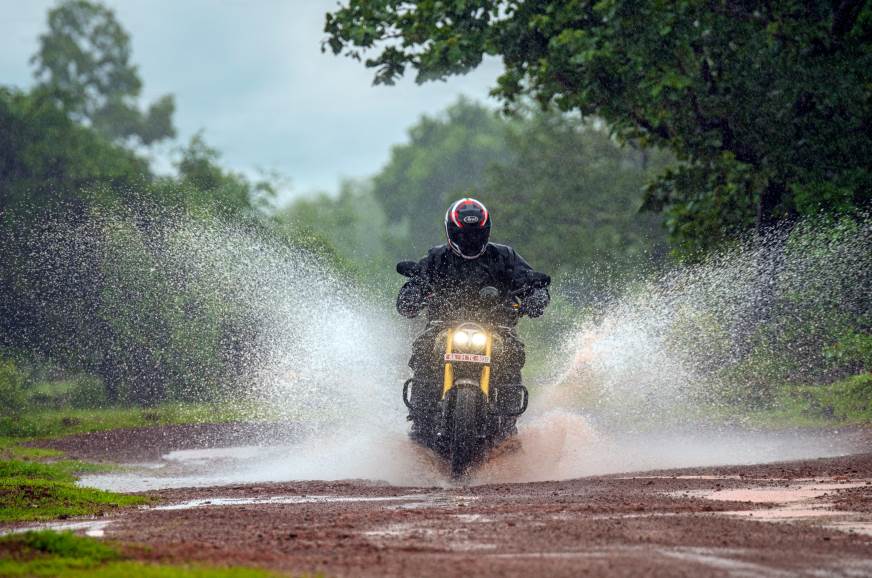 The Ronin is clearly not an off-roader, not even at the level of a mildly capable Scrambler. But it's really comfortable on the road. The riding position is completely upright and neutral, with a natural feel of reaching for the handlebars, and the footpegs are placed comfortably under you as well. Although we mainly encountered very nice roads in South Goa, the suspension setup also feels like it will be gentle on your back on mediocre surfaces; the seat is well padded too.
TVS Ronin: Features and Prices
Good suspension comfort is something you absolutely want from a TV and the same goes for features.
The Ducati Scrambler-inspired offset instrument console displays plenty of information, but it's also fairly clear and easy to read. The slip-and-assist clutch has a light action, and the bike comes with hazard warning lights as well as a side-stand engine stop feature.
The Ronin also has two riding modes, although they only affect ABS sensitivity. Speaking of which, you get single channel ABS on the lower and mid variants, but upgrading to the higher spec variant brings a dual channel setup, along with adjustable levers and lots of features connected via a dedicated TVS app. .
At Rs 1.49 lakh (ex-showroom), the starting price of the Ronin is very tempting indeed. However, the basic SS variant only comes in two solid colors, and if you want the nicer two-tone color scheme or the gold-colored USD fork, the mid-tier TD model will cost you Rs 8,000 more. . If you decide to go for the top-end TD model, be prepared to pay close to Rs 20,000 over the base model.
At this point, the Ronin is positioned around many 250cc options on the market, and while it's down on pure performance, it certainly tops them all in terms of features.
TVS Ronin: Should I buy one?
I'm still not sure what exactly the TVS Ronin is trying to be, and if you really pushed me to define it, I'd say it was kind of an easy-to-ride cruiser bike, with a bit of built-in toughness . It has no real direct rivals, but depending on where you look at it, potential alternatives could range from the Bajaj Avenger 220 to the Royal Enfield Meteor or the Honda CB350RS, any number from 250 to similar price.
What I can tell you for sure is that the Ronin is a very fun bike to ride – if you're not interested in speed, aggression and excitement.
Also see:
TVS Ronin Video Review