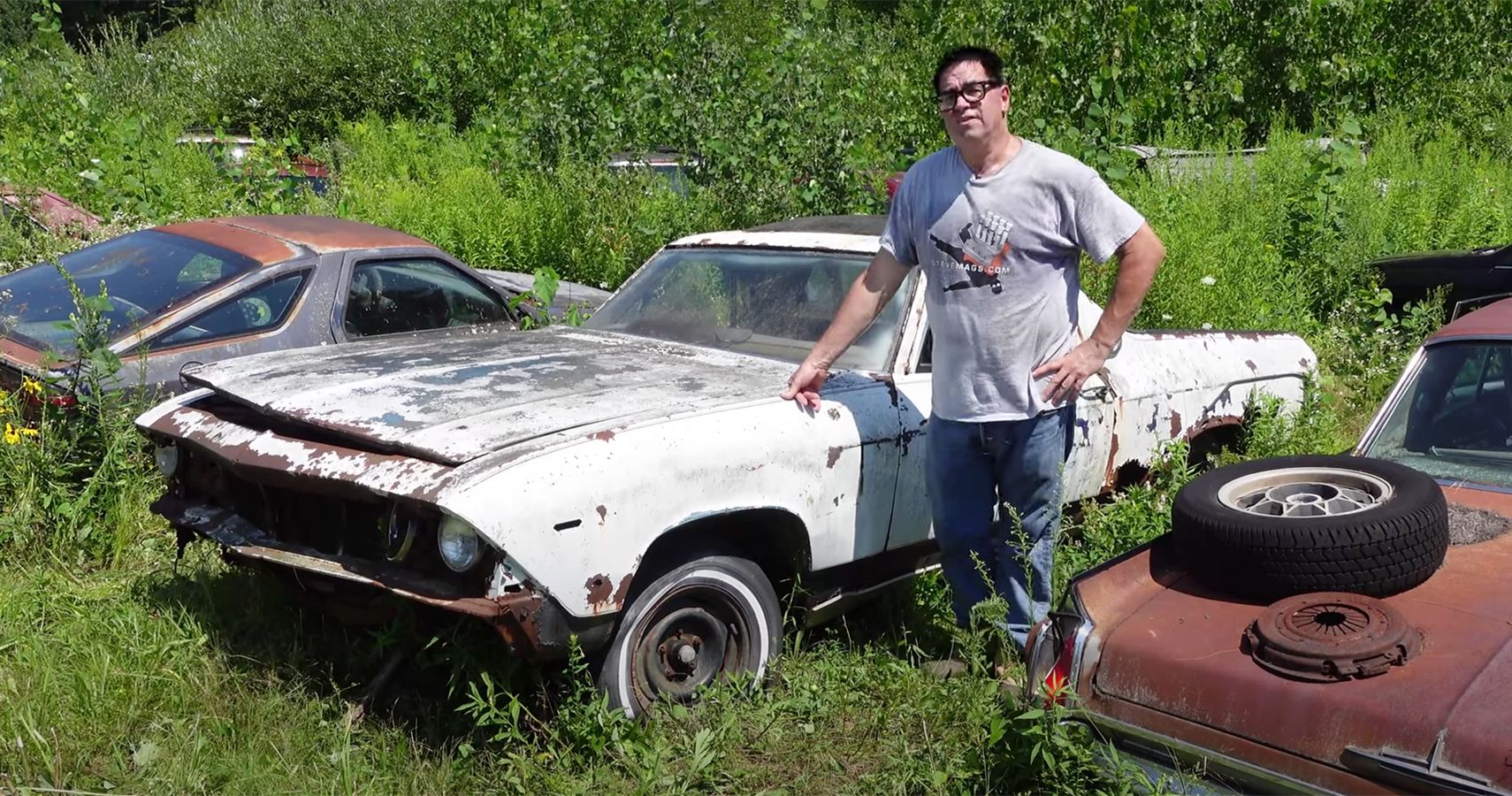 Steve Magnante Says The 307 Engine In The 1969 Chevrolet El Camino Isn't A Z28 In Disguise
Auto shows and auctions are places where you can find interesting cars. However, there are also places like junkyards and barns where you never think you can find interesting vehicles.
Knowing this, the automotive historian and YouTuber Steve Magnante frequents junkyards for incredible finds. He doesn't just find interesting cars, like this 1969 Chevy El Camino, but also shares a lot of little-known information.
El Camino: workhorse with various engine options
Steve found this white 1969 Chevrolet El Camino sitting and rotting in the Bernardston Auto Wrecking junkyard in Bernardston, Massachusetts. He noted that 1969 is the second most popular year for El Camino, with 1972 taking the top spot. Thanks to its utility bed in the back, the El Camino was a hit with construction workers, urban cowboys, and people who wanted comfort, luxury, convenience, and hauling capability.
RELATED: Looks Like This 1972 Chevy El Camino Once Belonged To Frank Sinatra
After looking under the hood of the El Camino, Steve discovered it had a 307 V8 engine underneath. Really, the 307 is a bit bigger than the 302-ci (by 5 ci) engine of the z28. But Steve clarified that the 307 isn't a 302 in disguise, as they are small-block Chevrolet engines that are radically different. He noted that the 302 had a four-inch bore and three-inch stroke, while the 307 had a 3.87-inch bore and three-and-a-quarter inch stroke. In addition, the intake and exhaust valves of the cylinder heads also have different measurements.
A 1969 El Camino 307 with a patched floor
Steve went on to describe in more detail the condition of this white 1969 Chevrolet El Camino while giving some history lessons. Although it features a front clip and hood similar to a Chevelle wagon, the El Camino is unique inside with its single-locking single-row seat (there were optional buckets on an SS). This El Camino no longer has its bench seat, but it does have an automatic transmission. It could be the Power Glide unit that was available for the El Camino until 1969 or the turbocharged 350 three-speed automatic transmission.
RELATED: Forgotten 1972 Chevrolet C10 Big Block found in junkyard
Upon closer inspection, Steve discovered that the floor had a "big, ugly" aluminum patch on the floor. He thinks the original steel floor may have rotted and its previous owner tried to extend the life of the car by several years by patching it up with a piece of aluminum.
Before finishing his video, Steve gave some history lessons on the prices, frame, wheels and structure of El Camino.
Source: Steve Magnante on YouTube