Royal Enfield Hunter 350 review, first ride: performance, engine, specs and price
Armed with an aggressive price tag, this new Royal Enfield offering is a more contemporary bike than what we're used to seeing from the brand.
Two years have passed since the launch of the new Royal Enfield J platform of 350cc motorcycles and the company claims to have already manufactured over half a million of these motorcycles. Obviously, existing customers accepted the J-platform bikes with open arms, but the new Classic 350 and Meteor 350 are "Royal Enfield" type bikes. With this new Hunter 350, the company is now trying to expand to a newer and broader customer base.
The idea is to make this bike more accessible, whether for non-RE fans or just new riders in general. Effectively, it's a smaller, lighter, easier and more contemporary bike than what we're used to seeing at Royal Enfield.
Hunter 350 is the third model based on RE's J platform.
Royal Enfield Hunter 350: ease of driving and capacity
There are a few numbers that matter when it comes to ease and accessibility. The first is seat height and with an 800mm tall seat (as well as a narrow section where the seat meets the fuel tank) the Hunter is welcoming for shorter riders. On the other hand, I am 1.80m tall and I also fit comfortably on the bike.
Then there's the weight and at 181kg this bike is 14kg lighter than the Classic 350 – but that's on paper and when you ride the bike it feels even lighter than that. This is because the Hunter has some pretty big changes going on with the chassis. This is the first modern RE with 17-inch wheels at both ends, and that alone brings a lot more agility. Additionally, the wheelbase is 20mm shorter than the Classic and the steering lean angle is now sharpened to 25 degrees, which is quite aggressive for a 350cc Royal Enfield.
The basic platform is the same as on the Classic and Meteor and the front end of the frame is the same on all three bikes. However, the rear of the frame is now a bit shorter and there is a new subframe. It also lacks the heavy metal footpeg cradle underneath that typically houses the front footpegs you get on the Meteor and Classic.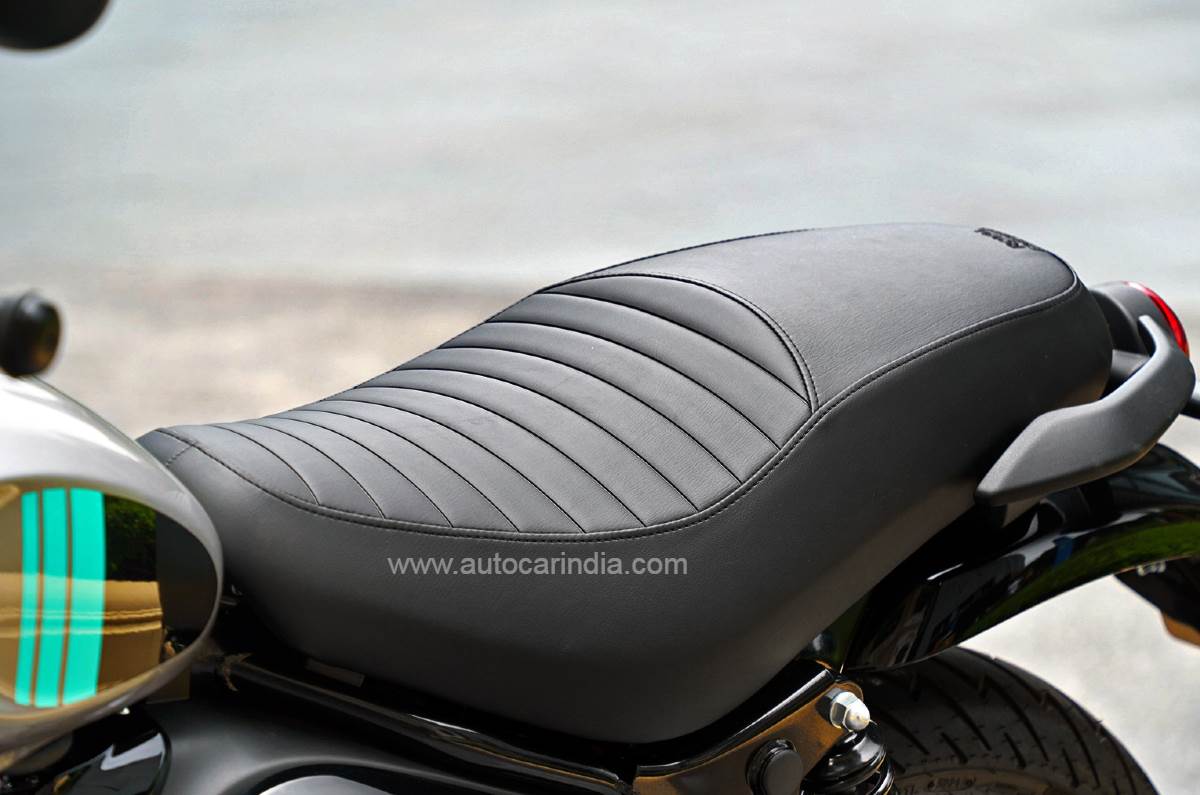 The seat is set at 790mm and the bike weighs 181kg.
The result is a bike that rides and handles almost like a typical 250cc naked bike. It's strange at first to feel that torquey, slow-revving engine associated with such a light and nimble bike, but it's something you get used to quickly. We rode all kinds of Bangkok roads, from rush hour traffic jams to beautifully fast and open highways. The company even let us do a few laps around a go-kart track where biking was great fun.
The Hunter has one more degree of lean angle available on each side (43 degrees left and 42 degrees right) than the Meteor, which is good, but you still don't have to try too hard hard before the footpegs start to scrape. However, for most real world situations there is plenty of lean angle available. This bike is also ready to change direction much faster and with much less effort than any modern Enfield. That makes it great fun whether you're having fun on a go-kart track or just cruising through traffic.
The new Ceat tires are also ideal for this application. On the braking side, the Hunter has a new front master cylinder that gives it a bit more feel and progression, but the rest of the setup is the same as the Classic and Meteor. And like its siblings, these brakes need a hard pull on the lever for emergency stops. The top-end Hunter Metro variant we use comes standard with dual-channel ABS.
When it comes to suspension comfort, it's hard to say how the Hunter will fare because Thailand has some great roads that put ours to shame. However, this suspension is a bit firmer than the Classic or Meteor, especially in the rear. From what we could tell, this bike will feel firmer than its siblings, but I don't think it will get too much. Still, that will have to wait until we drive it on bad roads. The Hunter is also down in ground clearance compared to the Classic, but I don't think the 150mm figure will be a serious issue, given the firm rear shocks and shorter wheelbase.
The footpegs are further back than its 350 sibling.
The riding position is comfortable and reminds me of the Interceptor 650 because the footpegs are now under you, rather than in front. Like the Interceptor, there is a slight forward stretch of the handlebars and the footpegs are set back slightly. It's a much more connected riding position than other 350s, and a lot of people will like it.
Royal Enfield Hunter 350: engine, performance
Overall, the chassis is nimble and playful, but I wouldn't go so far as to call it a sportbike – fun yes, but not sporty. And the main reason behind that is the engine, which is pretty much exactly the same as the Classic and Meteor.
While the horsepower and torque figures are exactly the same (20hp and 27Nm), RE says they mapped the engine slightly differently. They've already managed to make the Classic and Meteor engines feel a little different from each other by doing this, and the same goes for the Hunter. This engine is a bit more responsive, and the sound of the shorter exhaust is a bit more throaty.
Nonetheless, it's still a very similar driving experience, and RE says you can expect similar performance as well as fuel efficiency, which is 36.2 kpl.
The Hunter 350 comes across as a fun motorcycle.
On the highway, the Hunter feels good at around 80 km/h and it can hold a stress-free 100. All of the above comes fairly slow, but even at its top speed of around 120km/h the motor is fairly smooth and without any significant vibration.
This kind of performance is nothing special – and if you care about 0-100 times and top speeds, you should look elsewhere. But if you like to ride at a calm, smooth pace, this is one of the most distinctive and enjoyable engines you'll find on any Indian motorcycle. Much like the Classic and Meteor, it's all about savoring the powerful low-to-midrange torque and smooth rhythm you can feel from the engine through the entire bike. I really enjoyed commuting on our Classic 350 long term and this lighter Hunter shouldn't be any less enjoyable while also being easier to manage. The only problem is that, just like its siblings, the Hunter has a heavy clutch, and it gets tiring when you're invariably stuck in traffic.
Royal Enfield Hunter 350: design and features
The Hunter is a fun bike to ride and I think it looks pretty cool too. The challenge with the typical modern retro roadster design is that you can't do much with the overall silhouette and you have to have the standard elements like a round headlight, teardrop fuel tank, small side panel. But Royal Enfield has managed to give this bike some of its own identity without doing things that feel weird or forced. You can see it in the unusually shaped knee recesses and the unique side panels as well as the shapely rear. There are a whole bunch of well-designed accessories, and I find the flat seat as well as the optional rear storage help to enhance this design.
This is most definitely a more compact bike by RE standards and is dimensionally smaller than the Classic in every way. But it's still a 400-pound machine, so it's not outright small either and it even fits a passenger quite comfortably.
The Hunter has a nice set of proportions even though it runs on smaller 17-inch wheels, but I think the color scheme plays a big role. I like the Dapper Ash color scheme on our bike because it lets you appreciate the lines of the tank better – some of the other palettes on the Metro models have some pretty bold lettering which distracts me a bit. In fact, the lower Retro model has much simpler and cleaner paint schemes.
Retro variants come with wire-spoke wheels, a simpler instrument cluster, and single-channel ABS with a rear drum brake.
As far as features go, the Hunter keeps it simple with no fancy toys, but it's not ill-equipped either. There's a carefully designed USB charging port as standard and you can choose the Tripper navigation display if you want. The Metro variant also gets hazard warning lights and both models use a halogen headlight which works quite well. Riding this bike is just a reminder that I would have a good halogen bulb over a bad LED any day of the week.
The lower Hunter 350 Retro model is much simpler, with wire wheels, thinner tyres, rear drum brake, single channel ABS, more basic switchgear, simpler instrument console, hand grip tubular rear hold, a halogen brake light and old school. rectangular indicators. Despite its simplicity, retro looks quite charming, and some may actually prefer it to metro.
Royal Enfield Hunter 350: price, conclusion
Now the question arises how authentic a Royal Enfield the Hunter 350 is. I'm still not entirely convinced by the marriage of that smooth, plush engine with such a fast chassis, but beyond that the Hunter certainly lives up to the expectations we have of the modern Royal Enfield. It's a well-designed, well-engineered motorcycle with a good sense of character and it comes with plenty of customization options. But the real temptation for this bike comes from the surprisingly aggressive prices.
Prices for the Hunter 350 range from Rs 1.50 lakh to Rs 1.69 lakh.
With a starting price of Rs 1.5 lakh for the Retro, the Hunter 350 is as low as the previous generation base Bullet model that needs replacing. The solid color Metro model costs Rs 1.64 lakh, while the two-tone colors are priced at 1.69 lakh. This puts the Hunter on par with the new TVS Ronin and makes it up to Rs 53,000 less than the Honda CB350RS. RE hasn't mentioned anything about those introductory prices, so we don't know how long they'll stay this low, but for now the Hunter 350 is great value, and it's going to give a lot to competition think about.
To sum up, I don't think the Hunter 350 is for Royal Enfield traditionalists and they'll probably prefer the bigger, heavier, slower response feel of the Classic and Meteor. But that's exactly the point, and if you're someone who likes the idea of ​​the awesome new era Royal Enfield, but hasn't been able to gel with existing bikes so far, or if you just think they're too intimidating, this bike might change your mind.
Also see:
Royal Enfield Hunter 350 Video Review