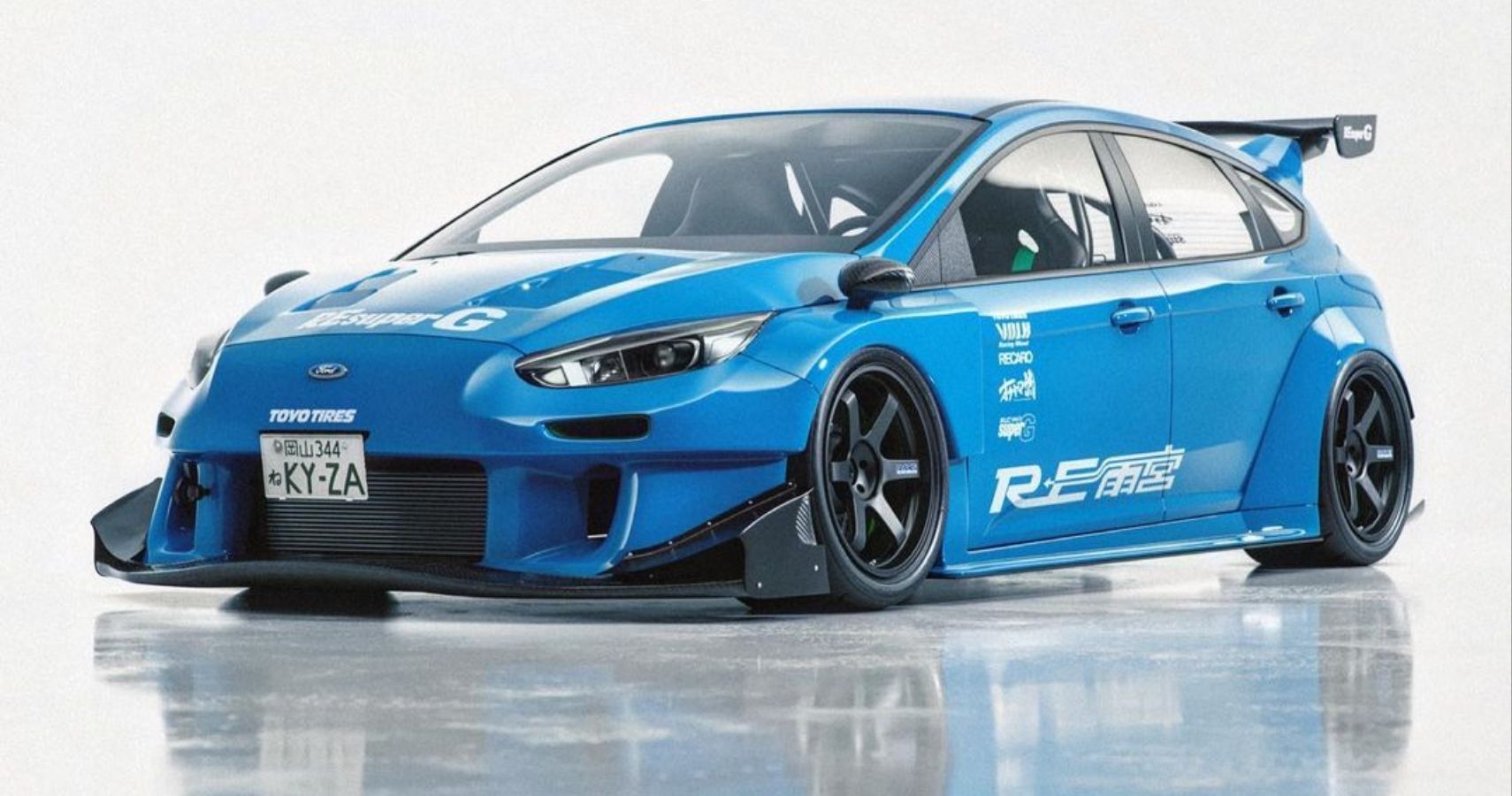 Powered by a rotary engine, this Ford Focus RS gets a makeover with JDM
A digital artist showcases his talents with this latest creation of a hot hatch concept, giving it a wide body and big aero kit for the track.
The world of digital car rendering is full of extremely talented and brilliant artists. One of them is Khyzyl Saleem, also known as the_kyza on Instagram, who has produced amazing artwork over the past couple of years and is one of the best in the business. This latest rendering of Saleem is very interesting. He took the Ford Focus RS, and converted it into a rotating concept inspired by RE Amemiya, creating a look you might not expect.
A Ford Focus tuned to JDM
For those who don't know, RE Amemiya is a Japanese tuning company, so this Focus got a full JDM facelift, including that rotary engine. Saleem has really gone to town on the front details with this car. We have a Japanese-style license plate on the Focus with "Kyza" written on it, and the traditional grille area is completely gone. The Focus RS has a flat face and a nice air dam underneath, to cool that big rotary engine. The front of the car is apparently attached to a massive splitter with large rotating vanes on each side.
If you like this render and want to see more, you can subscribe to HotCars Premium to see a Nissan Z roadster convertible come to life as a digital render.
RELATED: Flexing Lots of Muscle With This Stunning 1968 Pontiac Firebird Render
The most radical Focus RS you'll see
The Focus' hood features two bulges, one on each side, to leave a smooth center section. If we look inside the Focus, we can see impressive racing seats with lime green seat belts – a very JDM color.
On the side of the Focus RS there are larger than standard side skirts, and naturally Saleem has added larger wheel fenders front and rear which sit on some pretty amazing wheels with design star-shaped and all black, while we can pretty much see the green brake calipers.
RELATED: This Ford Mustang Mach 1 Looks Amazing With Some Extra Muscle
Chunky Aero rear focus
The changes aren't just to the front and side of the Focus either. Saleem added a huge rear spoiler to the car, sitting above the rear window above the fascia, and it certainly stands out. We can also take a closer look at the large wheel fenders, while it's also easy to spot the giant exhausts on the car. It is a dual exhaust setup, one on each side, and between these is a large diffuser with a small rotating fin on each side.
Source: the_kyza Instagram page