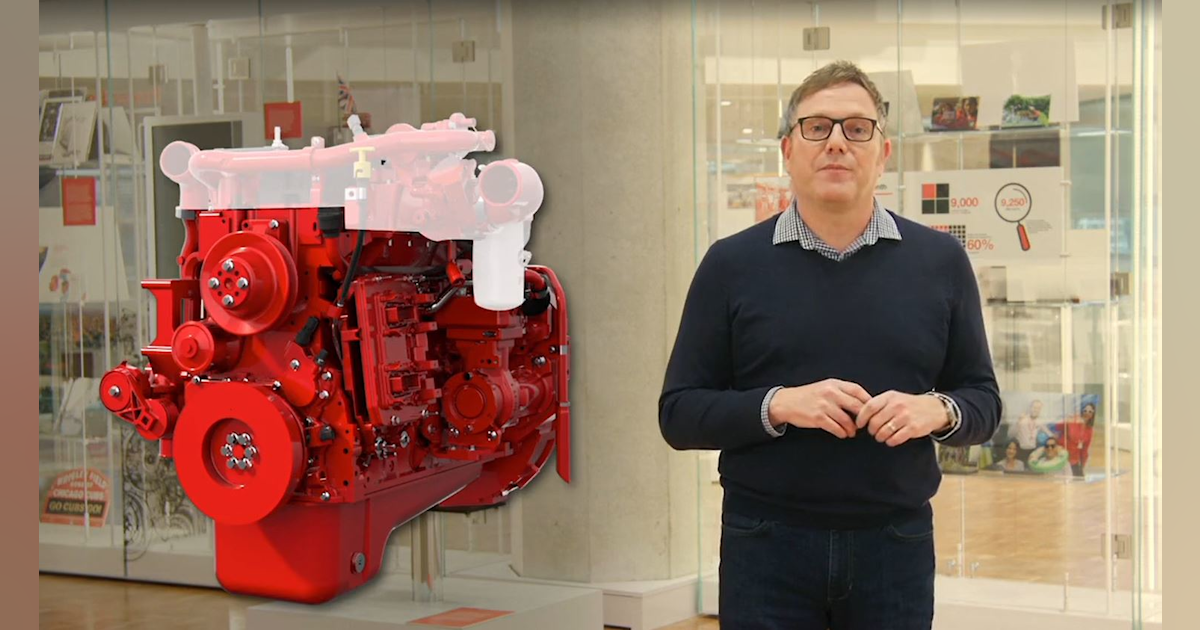 Cummins Unveils Fuel Independent Internal Combustion Engine Strategy
The path to a zero-emissions destination in trucking is transitional and based on options that correspond to specific fleet duty cycles. In this spirit, Cummins develops its powertrain platforms and gives truck OEMs and fleet end users access to a range of low-carbon fuel types.
As the industry's first "unified and fuel-independent" engines, Cummins' platforms will use core engine blocks and components that share common architectures. Cummins' new design approach will be applied to all of the company's B-, L-, and X-series engine portfolios, which will be available for clean diesel, natural gas, and hydrogen.
"We are designing these products from the ground up to meet all the fuel needs we will need in the future," Jonathon White, vice president of engine engineering at Cummins, said at a press conference. February 14th. "It's a unique situation for us. In the past, we have adapted diesel products to natural gas. In this case, we are designing all of these platforms from the outset to be capable of diesel, natural gas, gasoline in some cases, and in the future, hydrogen fuels.
See also: Cummins to acquire Jacobs Vehicle Systems for $325 million
These new fuel-independent platforms will feature a series of engine versions derived from a common base engine, meaning they have a high degree of parts commonality. Under the head gasket of each engine there will be largely similar components. Above the head gasket will be different components for different fuel types. Each engine version will run on a different and unique fuel.
Brett Merritt, vice president of on-road operations for Cummins, stressed that these technologies would not be adaptable and that current products would remain in the market.
"While I think some areas of the digital offerings will be available in a retro perspective from our current offerings, we anticipate that this will truly be a new family of engines," Merritt advised. "The key is that we're designing this from the ground up, so rather than retrofitting engines that hit these other fuel zones from a combustion perspective, we're designing this from the ground up. We think there are huge performance benefits that would not be applicable to our other engines.
The products will begin rolling out — although not all of them will be available at the same time — in 2024, noted Amy Boerger, Cummins vice president, North America highway.
"We work closely with all OEMs to ensure we all have wide availability," she said. "The timing also depends on the platform."
On the B-Series platform, for example, Cummins plans to launch a gasoline powertrain first and follow with other fuel types in a staged launch, Boerger said. For 2024, the initial product Cummins is launching is the gasoline version of its B6.7 engine, which has some commonalities with the European product Cummins has been working on for many years, White added. Propane will also be a fuel option in the B6.7 offering.
"It's a portfolio of platforms in terms of commonalities and options that we plan to offer customers," White said. "Each powertrain will have to be certified according to the fuel that will be used and the vehicle in which it will be installed. A single engine cannot be converted; it would have to be specified at the point of sale and installation to run on this fuel.
According to Cummins, 80% of common parts on platforms will offer similar engine footprints, diagnostics and service intervals. These commonalities are intended to make it easier for OEMs to integrate a variety of fuel types into the same truck chassis, minimizing the costs of training technicians and retooling service sites.
"Destination Zero"
These new products are an important part of Cummins' strategy to further reduce greenhouse gases (GHGs) and the impact of its products on air quality and achieve net zero emissions by 2050. This commitment requires changes to Cummins products and the power sources that power them.
Two of the company's 2030 environmental sustainability goals include reducing lifetime GHG emissions from newly sold products by 25% and partnering with customers to reduce GHG emissions from field products by 55 million tonnes metrics.
See also: Which fuel source will dominate trucking in 2030?
"Cummins has declared that 2050 is when we will be carbon neutral," said Srikanth Padmanabhan, president of the engine business. "Between now and then, I see that there are three different stages: the first decade, between now and 2030, then from 2030 to 2040, and from 2040 to 2050.
"By 2050, that's when the grid needs to improve in terms of ecology, as well as the fact that we also need different technologies for electric batteries and fuel cells," he added. "We believe that for the next 40 or so years, internal combustion engines will still be around as transitional technology before we get to that zero destination."
Asked about the pros and cons of comparing hydrogen ICE offerings to hydrogen fuel cell powertrains, Padmanabhan said it was only a matter of time.
"Hydrogen ICE, for at least the next 15 years or so, would be a good transition technology," he said. "The same natural gas tanks we use will also be the same tanks we use for the hydrogen internal combustion engine. This makes it much easier for fleets to substitute and do what they need to do.
Selection of fuel types
As part of its journey to destination zero, Cummins chose the transitional fuel types it believed made the most sense for commercial trucking operations.
"The way we chose hydrogen is the easiest to approach," Padmanabhan said. "When you think of hydrogen, it will eventually go to fuel cells, which means you have to create the infrastructure for hydrogen. We think of charge and duty cycles and how hard it is for us to switch to battery electricity, which means that it will be very difficult for us to switch to fuel cell electricity, so we asked the question: "What transitional technology do we need today? to help us transition to the fuel cell? That's how we chose.
For natural gas, Cummins recently launched its 15 liter natural gas engine for line haul applications in the North American market. Cummins also offers its 2021 X12 engine designed for the middle-duty market.
"We have been working on the gasoline side for more than 20 years," Padmanabhan said. "And it's always been the chicken or the egg [scenario]. As the CARB regulatory requirements came into effect, we felt like there was no other product to meet the requirements we have for California.
Overall, Padmanabhan noted, these diesel, natural gas and hydrogen internal combustion offerings will be the suite of technologies that will eventually reach battery and fuel cell electric powertrains.
"Where the technology is ready and the total cost of ownership is good, we should do it earlier in terms of battery power," Padmanabhan said.
Infrastructure is another major piece of the puzzle, and as governments contribute infrastructure related to charging, it will force the industry to turn to batteries and fuel cells, Padmanabhan noted.
"It's a 30-year journey, I think," he added. "ICE power and new power will help position our customers the way they want."