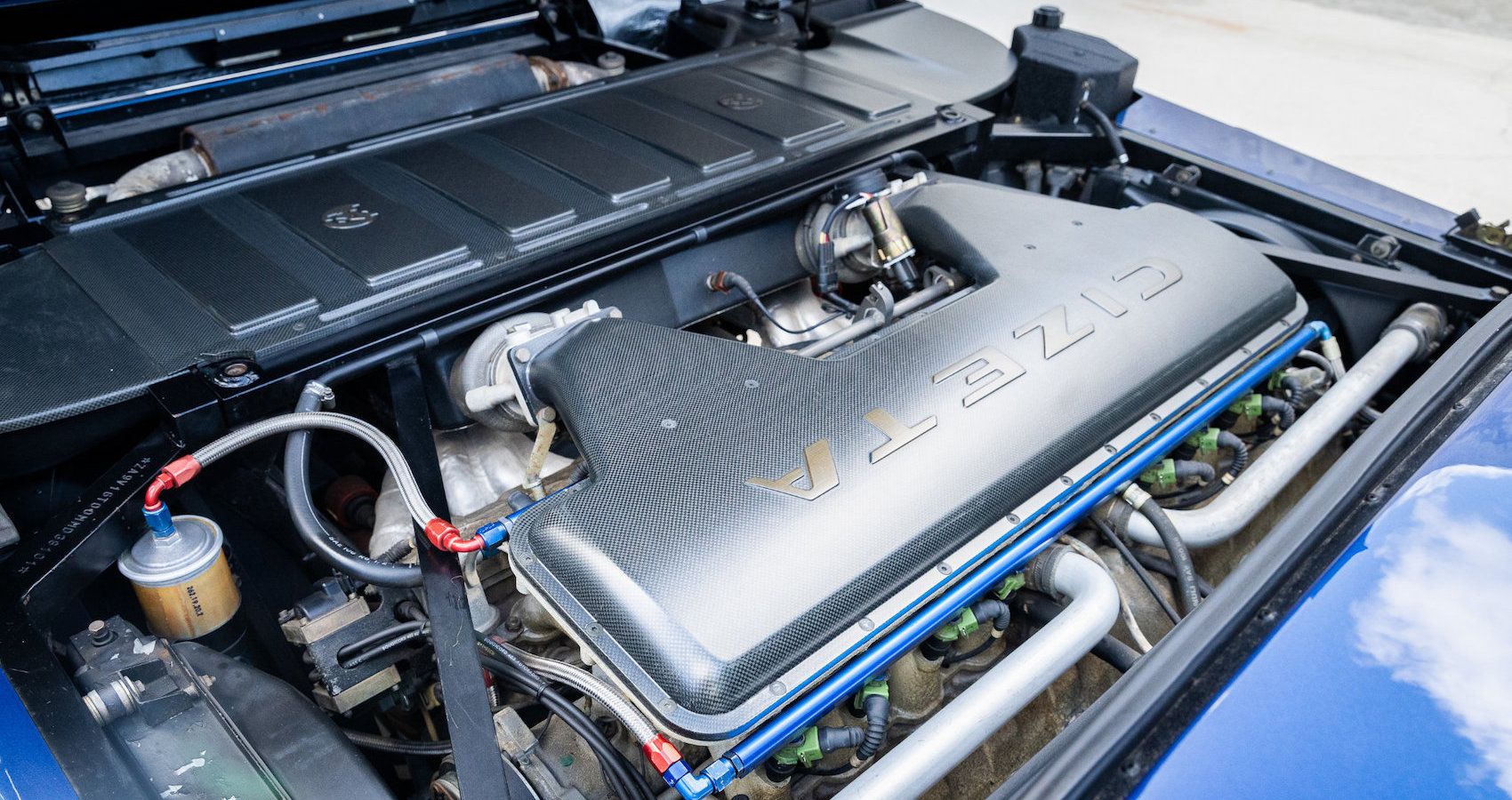 A detailed look at the engine of the Cizeta-Moroder V16T
A crack team of seasoned designers and engineers were behind the creation of the Cizeta-Moroder V16T. We are talking about the best of Italy; the same men responsible for the iconic sports cars like the original Lamborghini Countach. In fact, more of Ferruccio Lamborghini's original crew plotted behind closed doors to create this true successor to the Countach than there were those who worked at the Sant'Agata Bolognese factory after the acquisition of Chrysler.
You see, the American Chrysler Corporation took over Lamborghini in 1987 before selling it to the Malaysian investment group Mycom Setdco and the Indonesian group V'Power Corporation in 1994, which then sold it to the Volkswagen group in 1998, where it was under the control of the group's Audi. division.
Although a creation of former Lambo students, the new car would neither be called Lamborghini nor designated Countach. Instead, it had Lambo imprinted on its DNA, a true supercar in soul and body. And so, in December 1988 and from Modena – the city of fast cars – came the Cizeta-Moroder, rocking an all-new V16 engine with a projected top speed exceeding 200 mph. It was called the 16 cylinder of Italian passion.
Related: Why The 1989 Cizeta V16T Failed To Storm America As Promised
A brief overview of the Cizeta-Moroder V16T
The Cizeta-Moroder V16T, originally called simply the Cizeta V16T, is an Italian sports car produced between 1991 and 1995. It first appeared at a press conference in Los Angeles in December 1988, but only entered in production only in 1990.
Cizeta was designed by 49-year-old Italian businessman Claudio Zampolli who had always dreamed of a supercar bearing his name. Although Zampolli assembled what was literally an all-star team of Lamborghini veterans to achieve his dream, he had worked as a test and development engineer at Lamborghini during the Paolo Stanzani era before moving to Los Angeles to open his own import business. high-performance Italian cars.
So, for all intents and purposes, Cizeta had a figurative "star" on his forehead. The team included Oliviero Pedrazzi as chief engineer and designer, Achille Bevini and Ianose Bronzatti as chassis and suspension supervisors, and Marcello Gandini in charge of bodywork. All played similar roles in the creation of the venerable Lamborghini Countach.
The company producing the V16T started out as Cizeta Motors, but was later called Cizeta-Moroder Motors to recognize Giorgio Moroder, the renowned composer who held a 50% stake in the company. Although Moroder's contribution was only financial, he needed speed and often serviced his Countach at Claudio's Italia Sports Cars store in Zampolli. More than his money, however, Zampolli enjoyed Moroda's influence in helping to "sell" the new car to "wealthy" circles.
But more importantly, money meant less to Zampolli, compared to the dream he had harbored for at least ten years of seeing his initials on his own supercar (Cizeta is how Italians pronounce CZ, the initials of Claudio Zampolli ). He was already making money importing and servicing exotic cars. In this spirit, Cizeta was more of a dream machine than a company.
Related: This Is Why Lamborghini Chose To Build The New Countach
Cizeta: the legendary Italian V16 supercar of the 1990s
The V16 in its name heralded Cizeta's transversely mounted 16-cylinder engine. A V16 engine is a sixteen-cylinder piston engine with two banks of eight cylinders arranged in a V around a common crankshaft. You don't see them every Tuesday these days, more so in the late 80s and early 90s. They are less common than engines with fewer cylinders, such as V8s and V12s.
Cizeta was proud to shout from the rooftop that he had a hidden V16 mill in the center rear position, just forward of the rear axle and behind the passenger seats. The engine is based on the Lamborghini Urraco 90° DOHC flat-plane V8, meaning the Cizeta was powered by a technically superior transversely configured advanced sixteen-cylinder engine.
Without a doubt, the all-aluminum 6.0-liter V16 engine was Cizeta's biggest asset and main selling point. You can imagine the excitement of introducing the world's only production V16. It had 64 valves and eight overhead camshafts instead of the conventional four long cams since they are driven in the center of the engine block's unique casting. In other words, the four-cylinder heads with gearing between the heads provide a single output from the center of the engine assembly to the five-speed transaxle.
In conclusion, the V16 produces 540 horsepower at 8,000 rpm and 400 lb-ft of torque at 6,000 rpm, propelling the car beyond 200 mph and from 0 to 60 mph in 4 seconds. "I've always been fascinated by big things," Zampolli said. "Ever since I was a kid, I've loved the biggest, most powerful cars. I don't knock Ferraris and Lamborghinis V-8s – they're beautiful cars – but the car that bears my own initials has to be something. something special."
The big mill certainly set Cizeta apart both among supercars with 12-cylinder engines and V8 or less mass-production cars. Plus, the V16 sounded just as powerful. The car was expected to cost around $280,000, but the company was confident it would sell very well. All they had to do was move at least 50 Cizetas a year, but he was able to build a hundred units at that time.
Cizeta-Moroder V16T Engine and Performance Fact Sheet
| | |
| --- | --- |
| Shift | 5995cc |
| Cylinders | 16 |
| Valves per cylinder | 4 |
| Hole | 86 millimeters |
| Stroke | 64.5 millimeters |
| Compression Ratio | 9.3:1 |
| Engine setup | V |
| Superchargers/Turbochargers | naturally aspirated |
| Fuel | Essence |
| NEDC fuel consumption | City: 24/ Highway: 9.6/ Combined: 11.3 |